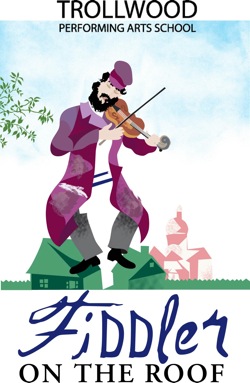 Fiddler on the Roof was a 2006 main stage musical production staged by Trollwood Performing Arts School. It was performed at Trollwood Park.
Broadway productions
Edit
Fiddler on the Roof is one of the best-known stage and film musicals. It originally opened on Broadway on September 22, 1964 with music by Jerry Bock, lyrics by Sheldon Harnick, and libretto by Joseph Stein. Zero Mostel played the protagonist, Tevye the Milkman, Maria Karnilova his wife Golde, Beatrice Arthur as Yente the Matchmaker, and Bert Convy as Perchik the student revolutionary.
Chaim Topol is most popularly known actor to portray Tevye in the 1960's London productions and later in the successful 1971 film adaptation from Untied Artists Productons directed by Norman Jewison.
Other actors that have played Tevye on stage have included Alfie Bass, Herschel Bernardi, and Theodore Bikel.
The musical was revived on Broadway for the fourth time in 2004, with Alfred Molina (and later Harvey Fierstein) as Tevye and later Rosie O'Donnell as Golde. The revival closed on January 8, 2006.
The story is loosely based on Tevye and his Daughters, or Tevye the Milkman (originally published in 1949), by the Russian Jewish author Sholom Aleichem.
The play is set in the tiny Jewish shtetl (town) of Anatevka in Tsarist Russia in 1905. The story centers on Tevye's attempts to maintain his family and religious traditions while adapting to new pressures. These manifest themselves chiefly in the strong-willed actions of Tevye's eldest three daughters, who each select her own husband, contrary to tradition. In both the film and stage production, Tevye has five daughters.
Production Information
Edit
Tevye: Dan Glaser Golde: Eliza Snortland Hodel: Ginny Glaser Tzitel: Hailey Boyd Perchik: Marc Koeck Chava: Clara Cavins Wolford Fyedka: Eric Fiebeger Motel: Sean Benedict Lazar Wolf: Matt Barnett Yente: Julia Whittle
Other Stagings
Edit
External Links
Edit
Ad blocker interference detected!
Wikia is a free-to-use site that makes money from advertising. We have a modified experience for viewers using ad blockers

Wikia is not accessible if you've made further modifications. Remove the custom ad blocker rule(s) and the page will load as expected.